History has had many defining moment and many iconic leaders. Trust, loyalty and companionship are needed for these times. So of course, there were dogs. So here they are, histories most famous dogs – top 14.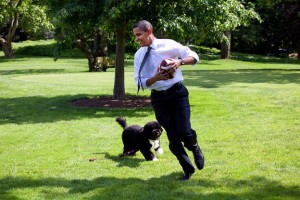 BO OBAMA
Bo, the Portuguese water dog owned by the Obama family,who got a shout out in President Barack Obama's 2008 acceptance speech."Sasha and Malia … I love you both more than you can imagine," Mr. Obama said. "And you have earned the new puppy that's coming with us … to the White House."The Obamas took into consideration daughter Malia's allergies when selecting the Portugese Water Dog — it is considered a hypoallergenic breed.
MILLIE BUSH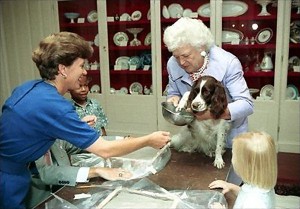 Millie, the English springer spaniel of Barbara and George H. W. Bush, was an enormously popular Presidential pet. Millie even "wrote" a book, appropriately titled Millie's Book, which reached number one on the New York Times non-fiction bestseller list. In this photo, Mrs. Bush helps Millie put her paw print on White House Christmas cards in 1991.
Fun fact: While the Bushes were in office, Millie gave birth to a litter of six puppies. One of the puppies, Spot Fetcher, returned to the White House as the Presidential pet of George W. Bush.
Though Lassie is really a fictional character, she's arguably the most famous dog ever. The original Lassie character was played by a Rough Collie named Pal. 10 generations of Pal's direct descendants have portrayed Lassie in film and on television, starting in 1943 and most recently in 2007. In this 1956 photo, Lassie (portrayed by Pal's son Lassie Junior) looks on as Jeff Miller (played by Tommy Rettig), works on his bike.
Fun Fact: Although Lassie the character has always been female, she has always been portrayed by male Collies, who retain a thicker coat in summer and look more Collie-ish on television. Also, male Collies are larger, and human child actors could play alongside them for longer before outgrowing them.
RIN TIN TIN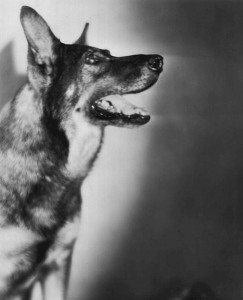 Rin-Tin-Tin was a real dog, rescued from a French battlefield during World War I by American soldier Lee Duncan. Upon returning to the U.S., Duncan trained the German Shepherd who went on to star in some small roles in a couple of silent films. In 1929, Rin-Tin-Tin got his first big break — a starring role in the 1923 film "Where The North Begins". The film — and Rin-Tin-Tin — were big hits is known for being responsible for bringing Warner Bros. back from bankruptcy. Rin-Tin-Tin went on to star in 27 films. The photo here is from the 1929 film, Frozen River.
SINBAD, UNITED STATES COAST GUARD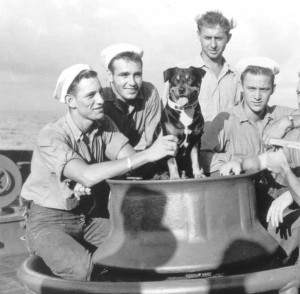 Sinbad was a mixed-breed canine sailor aboard the US Coast Guard Cutter George W. Campbell. Sinbad served 11 years sea duty in the Coast Guard, including combat in World War II. The dog was  intended to be a gift to a girlfriend of Chief Boatswain's Mate A. A. "Blackie" Rother, but the girlfriend's apartment didn't allow dogs. Sinbad joined up with the Coast Guard by putting his paw print on his own enlistment papers and was issued his own service identification number. He was ultimately awarded the American Defense Service Medal, American Campaign Medal, European-African-MiddleEastern Campaign Medal, Asiatic-Pacific Campaign Medal, World War II Victory Medal, and the Navy Occupation Service Medal.
LEX, US MARINE CORPS WAR DOG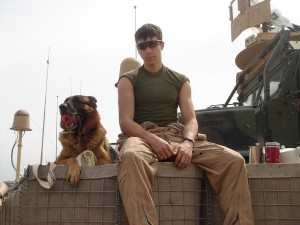 Lex was the first active-duty, working military dog to be granted early retirement in order to be adopted. While working in Fallujah, Iraq with US Marine Corps Cpl. Dustin J. Lee, Lex was wounded in an attack that killed his handler. According to reports, despite Lex's own injuries, he refused to leave the side of Cpl. Lee, and had to be dragged away to be treated by medics. Cpl. Lee's parents, Jerome and Rachel Lee, appealed to the U.S. military to adopt Lex. Under a little-used statute that allows working military dogs to be released from service early under special conditions, Lex was released to the Lees. Lex struggled with mobility issues due to retaining over 50 pieces of shrapnel in his body, but still worked as a therapy dog, visiting military veterans at VA hospitals and retirement homes, said the American Kennel Club. Lex died of cancer in 2012, at the age of 13. Lex was awarded an honorary Purple Heart, and was honored in 2008 by the American Kennel Club with an Award for Canine Excellence (ACE). Cpl. Dustin Jerome Lee was scheduled to return home just six weeks after his death. He was awarded the Purple Heart and the Navy and Marine Corps Commendation Medal with Combat Distinguishing Device for Valor. Cpl. Lee, who had begun working with rescue dogs at the age of five, was 20 years old when he died.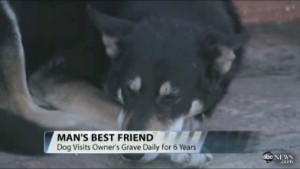 In 2012, ABC News reported that a German shepherd named Capitan had returned to its owners' grave every day for six years. After Manuel Guzman died in 2006, his family returned home from the funeral to find that the dog had run away. A few days later, while visiting Mr. Guzman's grave, they found Capitan grieving at the gravesite. The dog goes home for a short time every day to visit his family, but then returns to the grave by evening, the cemetery director told reporters.
CANINE RESCUE TEAM, 9/11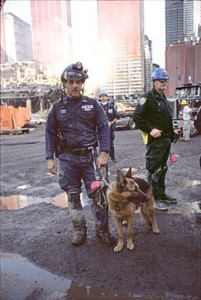 Within 15 minutes of the attack on the World Trade Center on September 11, 2001, a trained search and rescue (SAR) dog named Apollo was on-site with his handler, Peter Davis of the New York City Police Department. In the following hours and days, over 350 SAR dogs and their handlers came to the Twin Towers site, and to the Pentagon, to search for survivors and to find bodies. "The SAR dogs worked with their handlers up to 16 grueling hours a day," says Animal Planet, "and it became evident that the dogs were nearly as distraught as the human rescuers when there were so few survivors to be found. For the human rescue workers, the lack of survivors made the attacks feel ever more horrific and tragic. For the dogs trained to find survivors, though, it felt like a personal failure."
HACHIKO, FAITHFUL DOG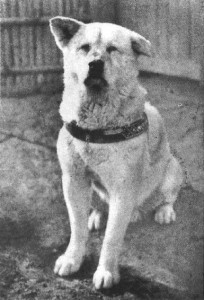 Hachiko was an Akita dog who lived near the city of Odete, in the Akita prefecture of Japan. He was owned by Hidesaburō Ueno, a professor at Tokyo University. At the end of each day, Hachiko would greet his owner at nearby Shibuya Station. This daily routine was followed until one day in May of 1925, when the professor did not return home from work. He had died of a cerebral haemorrhage. Each day for nine years, the Akita returned to Shibuya Station at the time that his owner's train should have arrived. Hachiko died in 1935, found on a street in Shibuya.
BUDDY CLINTON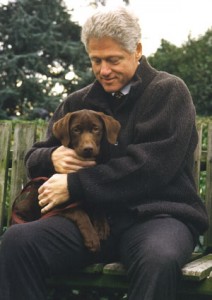 President Bill Clinton's chocolate labrador, Buddy, joined the Clinton family in the White House in 1997. The lively puppy didn't get along with the Clintons' cat named Socks, so the two were kept in separate quarters. We have a feeling they had the room.
FALA ROOSEVELT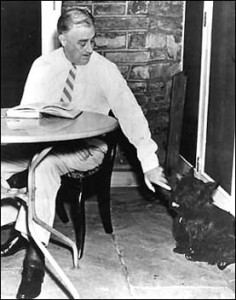 President Franklin D. Roosevelt's Scottish terrier, Fala, traveled with the Roosevelts and was almost always in the media. A statue of Fala is featured at the Franklin Delano Roosevelt Memorial in Washington, DC — the only presidential pet so honoured. While campaigning in 1944, Roosevelt gave his famous "Fala Speech," in which he objected to the opposition's allegations that Fala was costing the taxpayers money. "I am accustomed to hearing malicious falsehoods about myself," the candidate said. "But I think I have a right to resent, to object, to libelous statements about my dog!"
REX REAGAN
Rex was a Cavalier King Charles spaniel owned by Nancy and President Ronald Reagan. He was a Christmas present to Mrs. Reagan from conservative commentator William F. Buckley, and was named after the White House Chief Usher, Rex Scouten.
LAIKA, SOVIET SPACE DOG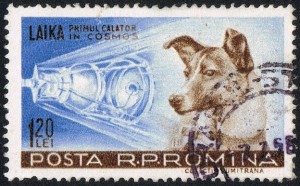 Laika was a stray dog from the streets of Moscow, trained along with two other dogs for the Soviet space program in 1957. Eventually, she was selected as the sole occupant of the Sputnik 2, becoming the first animal to orbit earth. At the time, the technology didn't exist to de-orbit the spacecraft and return it to Earth safely, so Soviet officials said that Laika was euthanized prior to oxygen depletion on the sixth day of orbit. It was revealed in 2002 that the dog actually died within hours of launch, due to overheating. In 2008, Soviet officials erected a small monument to Laika, near the military research facility where she was trained.
THE NIXON DOGS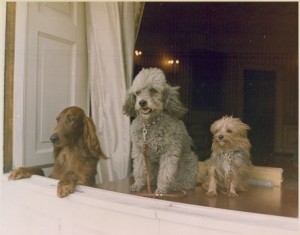 President Richard Nixon's most famous dog, Checkers, was never in the White House. The ones who did live in the White House, pictured above, were King Timahoe, an Irish setter; Vicky, a poodle; and Pasha, a terrier. Checkers, a cocker spaniel, had been a gift to the Nixon family. In then-Senator Nixon's famous "Checkers Speech" during his 1952 campaign for Vice President, he defended himself against allegations of improper fundraising. During the speech, in which Senator Nixon laid out his family's financial information, he said, "One other thing I probably should tell you because if we don't they'll probably be saying this about me too, we did get something — a gift — after the election. A man down in Texas heard Pat on the radio mention the fact that our two youngsters would like to have a dog. And, believe it or not, the day before we left on this campaign trip we got a message from Union Station in Baltimore saying they had a package for us. We went down to get it. You know what it was? It was a little cocker spaniel dog in a crate that he'd sent all the way from Texas. Black and white spotted. And our little girl — Tricia, the 6-year-old — named it Checkers. And you know, the kids, like all kids, love the dog, and I just want to say this right now, that regardless of what they say about it, we're gonna keep it.